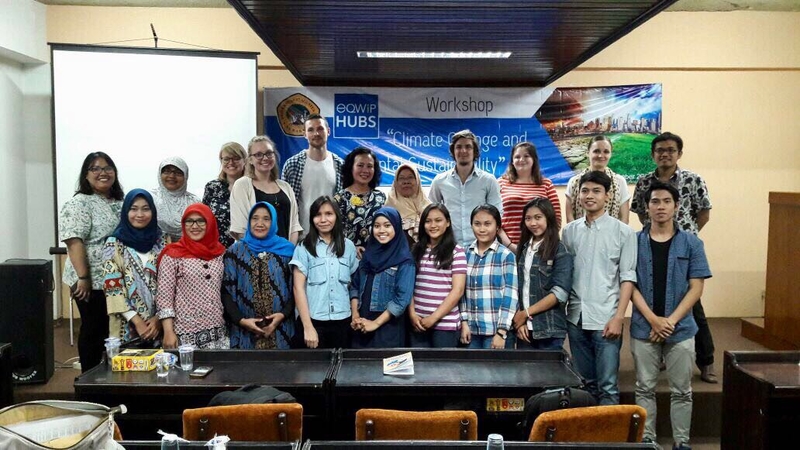 November Monthly Update
by Yi Fei Lin, 4 December 2017, 04:02 AM
We at EQWIP HUBs Indonesia are so excited to announce the arrival of four new Canadian volunteers! We will have three volunteers joining the Semarang Hub and one joining the Surabaya Hub. Welcome to Robin, Jesika, Matthew and Celia!
November has been a busy month at the Surabaya Hub. We started the month with an encore presentation of the movie "The Nightmare before Christmas" where the participants enjoyed candy as they watched the classic Halloween movie. We also did a movie night at the end of the month with the English Club at UNTAG, our partner, where we watched The Breakfast Club and discussed stereotypes, friendship, and the importance of understanding each other and not judging another person based on their appearance.
Thanks to everyone who joined us for the mangrove field trip on November 18! We had a great time outdoors connecting with nature. We are happy to announce that Serly, Mifatul and Milaturrosida are the winners of the #ecochallenge photo contest. Congratulations!
We also held three tertiary trainings this month. Yi Fei, our Youth Participation Officer, visited UNESA for a problem solving tertiary training session with participants from the Mathematic English Club. Yi Fei also visited LIA for a culture discussion where participants learned about different cultures, norms, values and transitions. Hollie, our Environmental Sustainability Advisor in Surabaya also Visited LIA for a discussion on climate change.
On November 24, EQWIP HUBs and UNTAG hosted a workshop on Climate Change and Environmental Sustainability. Hollie talked about the causes and impacts of climate change and actions everyone can take in their daily lives to be more environmentally sustainable. Ibu Noorshanti Sumarah from UNTAG then spoke about the great work underway in Surabaya to promote recycling and composting and showcased beautiful local crafts that are made out of plastic.
This month, John, our Youth Livelihoods Advisor, met with the first round innovation fund recipients to get an update about their business plans. John also held information sessions about the Youth Innovation Fund. Youth who have graduated from or are currently enrolled in the Entrepreneurship training with EQWIP HUBs can apply for the YIF to help build, launch and grow their businesses. For more information, please come to the Business Workshop on December 9-10, 2017.
The month closed off with more farewells. We said goodbye to volunteers Femi from Semarang. Thank you for all you have done and we wish you all the best in what you do next!

Kami, di EQWIP HUBs Indonesia, dengan sangat senang hati mengumumkan kedatangan empat relawan Kanada yang baru. Tiga dari empat relawan tersebut akan bergabung dengan Hub Semarang dan satu diantaranya akan bergabung dengan Hub Surabaya. Selamat datang Robin, Jesika, Matthew dan Celia!
Bulan November telah menjadi bulan yang sibuk di Hub Surabaya. Kami mengawali bulan ini dengan mengulangi presentasi film "The Nightmare before Christmas", dimana para peserta menikmati permen saat mereka menonton film Halloween klasik. Kami juga mengadakan acara Movie Night di akhir bulan dengan English Club dari UNTAG, mitra kami, dimana kami menonton "The Breakfast Club" dan mendiskusikan tentang stereotip, pertemanan, dan pentingnya saling memahami serta tidak menilai orang lain berdasarkan penampilan mereka.
Terimakasih untuk semua orang yang telah bergabung dengan kami dalam kunjungan lapangan di hutan bakau (Mangrove) pada 18 November! Kami sangat senang dapat menghabiskan waktu di luar ruangan dan dapat berhubungan langsung dengan alam. Dengan senang hati kami umumkan bahwa Serly, Mifatul dan Milaturrosida adalah pemenang kontes foto #ecochallenge. Selamat kepada para pemenang!
Kami juga menyelenggarakan tiga pelatihan tersier bulan ini. Yi Fei, sebagai Youth Participation Officer, mengunjungi UNESA untuk sesi penyelesaian masalah pada pelatihan tersier dengan peserta dari Mathematic English Club. Yi Fei juga mengunjungi LIA untuk diskusi budaya dimana peserta belajar tentang perbedaan budaya, norma, nilai dan transisi. Hollie, sebagai Environmental Sustainability Advisor, juga mengunjungi LIA untuk diskusi tentang perubahan iklim.
Pada tanggal 24 November, EQWIP HUBs dan UNTAG menyelenggarakan sebuah workshop tentang Perubahan Iklim dan Keberlanjutan Lingkungan. Hollie membicarakan tentang penyebab dan dampak dari perubahan iklim dan tindakan yang bisa dilakukan setiap orang dalam kehidupan sehari-hari agar lebih ramah lingkungan. Ibu Noorshanti Sumarah dari UNTAG kemudian berbicara tentang pekerjaan besar yang sedang berlangsung di Surabaya, yaitu untuk mempromosikan daur ulang dan pengomposan. Beliau juga tidak lupa memamerkan kerajinan lokal yang indah dan terbuat dari plastik.
Bulan ini, John sebagai Youth Livelihoods Advisor, bertemu dengan penerima Youth Innovation Fund yang pertama untuk mendapatkan kabar terbaru dari rencana bisnis mereka. John juga mengadakan sesi informasi tentang Youth Innovation Fund. Pemuda-pemudi yang telah lulus atau saat ini terdaftar dalam pelatihan kewirausahaan dengan EQWIP HUBs dapat mengajukan permohoan untuk Youth Innovation Fund untuk membantu membangun, meluncurkan dan mengembangkan bisnis mereka. Untuk informasi lebih lanjut, silahkan datang ke Business Workshop pada tanggal 9-10 Desember 2017.
Bulan ini ditutup dengan perpisahan. Kami mengucapkan selamat tinggal kepada relawan dari Semarang, Olufemi Ipaye. Terimakasih atas semua yang telah kamu lakukan dan kami berharap yang terbaik dalam apa yang kamu lakukan selanjutnya!