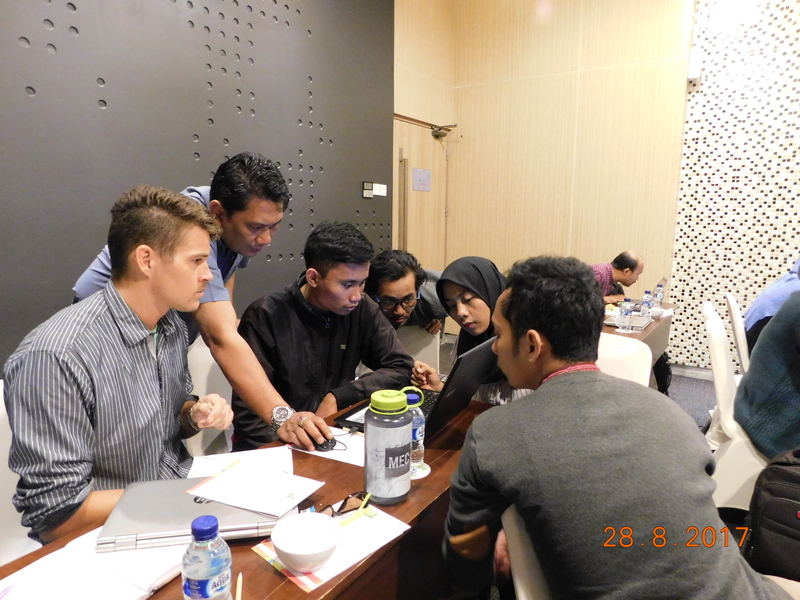 August Monthly Update Surabaya- English and Bahasa
oleh Heather Tustin dalam Tersier, 12 September 2017, 04:00 AM
Another busy month has come and gone here at the Surabaya Hub. We kicked off with a graduation where the participants from the professional and entrepreneurial classes came together to celebrate their accomplishment. Congratulations!!!!
At the beginning of the month members of the Surabaya staff along with the facilitation volunteer Lisa, traveled to EQWIPHUBs Semarang. During this time the Surabaya and Semarang hubs worked together with Education Development Center (EDC) to revise and update our Foundational, Entrepreneur and Professional training modules, with great success.
We had a very busy month with multiple tertiary trainings The first was our World Business Workshop were Monitoring and Evaluation volunteer Jamie, Intern Ria and Youth Engagement officer Heather conducted a presentation on how business is done in different cultures around the world. The participants enjoyed a lively discussion and had fun taking part in a role play where we looked at how to judge situations and adapt accordingly. For our monthly movie night we watched a documentary called HUMAN. This film was made up of interviews from people across the globe highlighting the struggles and triumphs that we all face and what it means to be human.
This month we also continued high school tertiary trainings with EDUSMART's Pak Edy and Ibu Farida. Volunteers Jamie, Youth Participation Officer Yi Fei and Youth Engagement Officer Heather also visited UNESA University to deliver two presentations to over 300 Students! Volunteer Heather conducted a session on effective interpersonal communication and Jamie and Yi Fei taught public speaking. For foundational trainings this month Trainers Pak Yos and Ibu Hasna began two trainings; one with SMK UNTAG doing professional class and then a foundational class with EDUSMART. We look forward to starting another 15 foundational classes next month with our many different partners.
It was a busy month for our past entrepreneurial graduates as many of them worked alongside Youth Livelihoods Advisor John and Hub coordinator Ibu Fahra to complete their business plans. The plans were passed on to the selection committee where 11 finalist were chosen to move on to the Accelerator Workshop and receive business start-up funding through our Youth Innovation Fund.
The Accelerator workshop was a huge success. Our 11 participants spent 4 days at IBIS hotel doing an intense training session involving several experts from key business areas including communication, marketing, management and accounting. A huge thank you to our facilitators; Pak Reza Rifanto, Pak Wima Brahmantya, Ibu Mega Intan Permatasari, Pak Widyaseno Estitoyo, and Pak Bagus Prakoso.
This month we have had to say some sad goodbyes. Surabaya volunteers; Jamie and Lisa as well as Semarang volunteers; Alana, Rowaida and Tiffany have traveled back to Canada. Both of the Hubs as well as all our participants thank you all very much for your time and hard work. We wish you all the best and cannot wait to see what you do next!

Bulan yang juga sibuk telah datang dan pergi di Hub Surabaya. Kami memulai bulan ini dengan perayaan kelulusan dimana para peserta dari kelas profesional dan kewirausahaan berkumpul untuk merayakan keberhasilan mereka. Selamat!!!!

Di awal bulan staf EQWIP HUB Surabaya bersama dengan training and facilitation assistant volunteer, Lisa, traveling ke EQWIPHUBs Semarang. Selama di Semarang, hub Surabaya dan Semarang bekerja sama dengan Education Development Center (EDC) telah dengan sukses merevisi dan memperbarui modul pelatihan Foundational dan Professional.

Kami menghadapi bulan yang sangat sibuk dengan adanya penyelenggaran beberapa pelatihan tertiary. Yang pertama adalah Workshop Bisnis Dunia dimana Monitoring and Evaluation volunteer: Jamie, Ria dan Youth Engagement Officer Heather mempresentasikan bagaimana bisnis dilakukan dalam budaya yang berbeda di seluruh dunia. Para peserta menikmati diskusi yang meriah dan bersenang-senang bermain peran dalam permainan di mana mereka belajar menilai situasi dan menyesuaikannya. Untuk malam film bulanan, kami memutarkan film dokumenter berjudul: HUMAN. Film ini terdiri dari wawancara dari orang-orang di seluruh dunia yang menyoroti perjuangan dan kemenangan yang kita semua hadapi dan apa artinya menjadi manusia.

Di bulan ini kami juga melanjutkan pelatihan tertiary di SMA-SMA di Sidoarjo bekerja sama dengan Pak Edy dan Ibu Farida dari EDUSMART. Monitoring and Evaluation volunteer: Jamie, Youth Engagement Officer: Heather dan Youth Engagement Officer: Yi Fei mengunjungi UNESA untuk melakukan presentasi di depan lebih dari 300 Siswa! Heather memfasilitasi sesi komunikasi interpersonal yang efektif sementara Jamie dan Yi Fei memfasilitasi sesi public speaking. Untuk core training di bulan ini Pak Yos dan Ibu Hasna memfasilitasi 2 kelas; satu kelas professional dengan SMK TAG dan kelas foundational dengan EDUSMART. Kami berencana untuk memulai 15 kelas foundational di bulan depan dengan berbagai mitra kami.

Bulan ini juga menjadi bulan yang sibuk bagi lulusan kelas kewirausahaan kami karena banyak dari mereka yang bekerja sama dengan Youth Livelihoods Advisor kami, John dan Hub Koordinator, Ibu Fahra untuk menyelesaikan rencana bisnis mereka. Rencana tersebut direview oleh panitia seleksi dimana 11 finalis dipilih dan menghadiri Accelerator Workshop sebelum menerima start up fund melalui Youth Innovation Fund.

Accelerator Workshop telah dilaksanakan dan berjalan dengan sukses besar. 11 peserta kami menghabiskan 4 hari di hotel IBIS menghadiri sesi pelatihan intensif yang melibatkan beberapa pakar bisnis termasuk diantaranya pakar komunikasi, pemasaran, manajemen dan akuntansi. Terima kasih yang sebesar-besarnya kepada fasilitator kami; Pak Reza Rifanto, Pak Wima Brahmantya, Ibu Mega Intan Permatasari, Pak Widyaseno Estitoyo, dan Pak Bagus Prakoso.

Bulan ini kami harus mengucapkan selamat tinggal ke beberapa teman kami. Volunteer di Surabaya; Jamie dan Lisa serta Volunteer dari Semarang; Alana, Rowaida dan Tiffany telah pulang kembali ke Kanada. Kedua Hub serta semua pemuda sangat berterima kasih atas waktu dan kerja keras Anda. Kami berharap yang terbaik dan tidak sabar untuk melihat apa yang akan Anda lakukan selanjutnya!